Back to List
News
June 29, 2017
Season Preview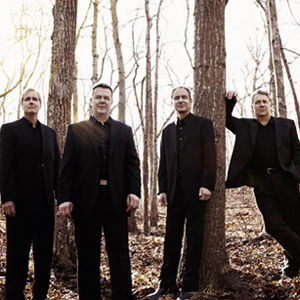 Having celebrated its 40th Anniversary last season-- a major milestone for a ground-breaking ensemble that has earned its place in the pantheon of the classical chamber music world, the Emerson stands apart in the history of string quartets with an unparalleled list of achievements over four decades: more than thirty acclaimed recordings, nine Grammys® (including two for Best Classical Album), three Gramophone Awards, the Avery Fisher Prize, Musical America's "Ensemble of the Year", and collaborations with many of the greatest artists of our time. With a repertoire that spans three centuries of chamber music, the Emerson also looks towards the future by collaborating with today's most esteemed composers and premiering new works, thus proving their commitment to keeping the art form of the string quartet alive and more relevant than ever.
The coming season reflects all aspects of the Emerson's venerable artistry with high-profile projects, collaborations and tours. North American highlights of the season include a subsequent performance at the Princeton University of Shostakovich and The Black Monk: A Russian Fantasy, the new theatrical production co-created by the acclaimed theater director James Glossman and the Quartet's violinist, Philip Setzer, collaborations with the Calidore and Dover Quartets, and a tour with the renowned pianist Evgeny Kissinin both Europe and the U.S.
In a bold intersection of chamber music and theater starring Len Cariou and Jay O. Sanders with the Emerson String Quartet, witness the trials and redemption of Dmitri Shostakovich's 50-year obsessive quest to create an opera based on Anton Chekhov's mystical tale: The Black Monk. Created from the minds of acclaimed writer-director, James Glossman, and Emerson String Quartet member, Philip Setzer, Shostakovich and The Black Monk: A Russian Fantasy is a masterpiece about love, art, madness and freedom. With the stroke of a pen, the Soviet regime undermined the career of one the most prominent composers of the 20th century. Through music – including performances of Shostakovich's String Quartet No. 14 and No. 8– the Emerson Quartet joins seven actors and weaves the tale of Shostakovich's obsessive quest, trying over decades to retell Chekhov's haunting and heroic story of a writer struggling for his sanity, only to be sidetracked again and again by the composer's own struggle to survive as an artist amid the ever-changing imperatives of Stalin's Soviet state.
Thursday, September 28, 2017 at 7:30 PM
Alexander Hall, Richardson Auditorium at the Princeton University
Shostakovich and The Black Monk: A Russian Fantasy
Writer/Director: James Glossman
Shostakovich: Len Cariou
Stalin: Jay O. Sanders
Middle Woman: Evelyn McGee Colbert
Younger Man: Alex Glossman
Older Man: Paul Murphy
Younger Woman: Ali Breneman
Older Woman: Linda Setzer
The Emerson Quartet

Tuesday, October 24, 2017 at 7:30 pm
Alice Tully Hall, White Lights Festival
BEETHOVEN String Quartet in E-flat major, Op. 127
SHOSTAKOVICH String Quartet No. 15 in E-flat minor, Op. 144

Tuesday, November 28, 2017 at 7:30 pm
Alice Tully Hall, Lincoln Center's Great Performers

BEETHOVEN String Quartet in B-flat major, Op. 130
SHOSTAKOVICH String Quartet No. 13 in B-flat minor, Op. 138
BEETHOVEN Grosse Fuge in B-flat major, Op. 133

Friday, April 27, 2018 at 3 PM
Carnegie Hall - Stern Auditorium/Perelman Stage
with Evgeny Kissin, piano

MOZART Piano Quartet in G Minor, K. 478
FAURÉ Piano Quartet No. 1 in C Minor
DVOŘÁK Piano Quintet No. 2 in A Major, Op. 81
On April 21, 2017 the Quartet released its latest album, Chaconnes and Fantasias: Music of Britten and Purcell, the first release on Universal Music Classics' new US classical record label, Decca Gold. On this new album, the Emersons explore the close affinities of the music of Henry Purcell and Benjamin Britten, arguably two of Britain's most well known composers. Included here are Britten's String Quartet Nos. 2 and 3, and Purcell's Chacony in G minor and Fantazias Nos. 6, 8, 10 and 11. Eugene Drucker says of this album "it's hard to believe that the music on this CD spans almost three centuries, ranging from Purcell's surprisingly pungent harmonies to Britten's distinctive voice: pitched outside the mainstream of European modernism, experimental yet deeply rooted in his extensive knowledge of older music, drawing inspiration from and breathing new life into old forms."