Back to List
News
March 31, 2011
SONY CLASSICAL SIGNING ANNOUNCEMENT: EMERSON STRING QUARTET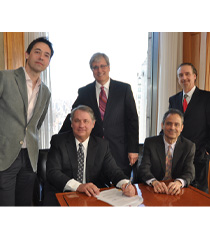 Sony Classical is proud to announce an exclusive agreement with the Emerson String Quartet, an ensemble of unrivaled eminence in the music world. The Quartet's debut album for the label, Mozart's Prussian Quartets K. 575, K. 589 and K. 590, will be released in November 2011 to coincide with a series of concerts at Wigmore Hall in London and Alice Tully Hall in New York City.
For its debut on Sony Classical, the Emerson has selected Mozart's last three string quartets. In concert, as well as recording repertoire, Haydn and Mozart remain the cornerstones of quartet literature. Having recorded Mozart's six "Haydn Quartets" as well as the flute quartets, the Emersons have long desired to add more Mozart to their discography. These three last quartets, dedicated to the cello-playing King of Prussia, represent the distillation of a lifetime of writing for string instruments in various combinations and genres, and the expansion of the significance of the minuet and finale within the 4-movement quartet structure. A second project for Sony, currently planned for 2012, will be Schoenberg's 'Verklaerte Nacht' and Brahm's String Quintet in G, Op. 111.
The Emerson String Quartet stands alone in the history of string quartets with an incomparable list of achievements over three decades: nine Grammy® Awards (including two for Best Classical Album, an unprecedented honor for a chamber music group), three Gramophone Awards, the coveted Avery Fisher Prize and an international reputation for groundbreaking chamber music projects including cycles of the complete Beethoven, Bartok, Mendelssohn and Shostakovich string quartets in all of the world's musical capitals. Dedicated to the performance of the classical repertoire, the Emerson has also demonstrated a strong commitment to the commissioning and performance of 20th-and 21st-century music, including over 20 important commissions and world premieres. The Quartet has collaborated in concerts and on recordings with some of the greatest artists of our time. After 34 years of extensive touring, the Emerson Quartet continues to perform with the same benchmark integrity, energy and commitment that it has demonstrated since it was formed in 1976.
"We have long admired Sony Classical's roster of great artists and the breadth of music that they record," remarked the Emersons. "We are proud to join this roster and look forward to a new, exciting relationship with a great company. Our first two CDs will document widely diverse aspects of our repertoire, ranging from the crystalline elegance and sheer beauty of Mozart's last three quartets to the rich sonorities of Brahms' String Quintet in G and the brooding, erotically charged turbulence of Schoenberg's 'Verklaerte Nacht.'"
Bogdan Roscic, President of Sony Classical says: "Superlatives are not always used cautiously enough in classical music but for me, the Emerson String Quartet is quite simply the world's most important string quartet. Not least because of their recording work, which they have honed to a perfection very few musicians have attained. Their discography is a collection of reference recordings. It is an absolute privilege to have them on Sony Classical."
Formed in 1976, the bicentennial year of the United States, the Emerson String Quartet took its name from the great American poet and philosopher Ralph Waldo Emerson. Violinists Eugene Drucker and Philip Setzer alternate in the first chair position and are joined by violist Lawrence Dutton and cellist David Finckel.