Back to List
News
March 23, 2016
Emerson Quartet Gives Three-Concert Series with Lincoln Center's Great Performers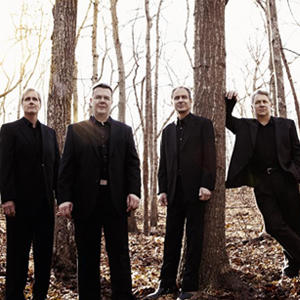 This spring, the world-renowned Emerson String Quartet performs a three-part series of late Haydn and early Beethoven string quartets entitled "Passing the Torch," presented by Lincoln Center's Great Performers. The Emerson's three programs alternate between works by Haydn and Beethoven, two masters of the string quartet. Haydn's Op. 76 Quartets are ambitious chamber works containing some of his boldest and brightest musical writing, the brilliant result of a lifetime spent developing the form. Beethoven's Op. 18 Quartets exhibit mastery of the Classical legacy he inherited from Haydn, which Beethoven pushed to a new threshold while incorporating motifs of tension, humor, and grace. Last fall, the Pittsburgh Post-Gazette praised the Emerson's performance of Haydn's Quartet Op. 76, No. 4 ("Sunrise"): "The group's unanimity and high technical accomplishment was immediately evident… The Adagio movement, equally exposed, conveyed an eloquent simplicity. The folk-like character of the Minuet and Finale that followed was meshed with classical elegance and restraint."
The Emerson's 2015-16 season began with the release of a disc with famed soprano Renée Fleming on the Decca/Universal label, featuring Viennese music written in the 1920s and '30s: Berg's Lyric Suite (including an alternate version of the last movement for soprano and quartet), Egon Wellesz's Sonnets by Elizabeth Barrett Browning, and Eric Zeisl's Komm, süsser Tod (Come, sweet Death). The album received critical acclaim and was featured on "Best Classical Albums of 2015" lists by The Boston Globe and The Guardian. Ms. Fleming and the Emerson will join together again onstage for performances at the Kennedy Center in June and Tanglewood in July.
In a season of over 85 quartet performances, highlights have also included collaborations with soprano Barbara Hannigan for Berg's Lyric Suite at the Berlin Festival, with violist Roberto Diaz for Mendelssohn's Viola Quintet at Philadelphia's Kimmel Center, and with the Calidore String Quartet for the Mendelssohn Octet at Princeton University. The Emerson also performed two concerts at London's Wigmore Hall and will appear at the second Piatigorsky International Cello Festival in Los Angeles's Walt Disney Concert Hall in May. Multiple tours of Europe have comprised dates in Denmark, Czech Republic, Italy, Spain, Germany, Poland, Turkey, Austria, Hungary and the United Kingdom; they also visited Moscow, Hong Kong, Shanghai and Seoul. The Emerson continues its series at the Smithsonian Institution in Washington, DC for its 37th season.
The Emerson String Quartet has accumulated an unparalleled list of achievements over three decades: more than thirty acclaimed recordings, nine Grammys® (including two for Best Classical Album), three Gramophone Awards, the Avery Fisher Prize, Musical America's "Ensemble of the Year" and collaborations with many of the greatest artists of our time. In January 2015, the Quartet received the Richard J. Bogomolny National Service Award, Chamber Music America's highest honor, in recognition of its significant and lasting contribution to the chamber music field. In addition to their position as Stony Brook University's Quartet-in-Residence since 2002, this May full-time faculty members violinist Philip Setzer and violist Lawrence Dutton will receive the honor of "Distinguished Professor," and part-time faculty members violinist Eugene Drucker and cellists David Finckel and Paul Watkins will be awarded the title of "Honorary Distinguished Professor."

CONCERT PROGRAMS:
Thursday, April 7, 2016 at 7:30 PM
Lincoln Center, Alice Tully Hall
HAYDN: Quartet in G Major, Op. 76 No. 1
BEETHOVEN: Quartet in D Major, Op. 18 No. 3
HAYDN: Quartet in B-flat Major, Op. 76 No. 4 "Sunrise"
BEETHOVEN: Quartet in C Minor, Op. 18 No. 4
Sunday, April 17, 2016 at 5 PM
Lincoln Center, Alice Tully Hall
HAYDN: Quartet in D Minor, Op. 76 No. 2 "Quinten"
BEETHOVEN: Quartet in A Major, Op. 18 No. 5
BEETHOVEN: Quartet F Major, Op. 18 No. 1
HAYDN: Quartet in D Major, Op. 76 No. 5
Friday, May 12, 2016 at 7:30 PM
Lincoln Center, Alice Tully Hall
HAYDN: Quartet in C Major, Op. 76 No. 3 "Emperor"
BEETHOVEN: Quartet in G Major, Op. 18 No. 2
HAYDN: Quartet in E-flat Major, Op. 76 No. 6
BEETHOVEN: Quartet in B-flat Major, Op. 18 No. 6

For more information, please visit Lincoln Center's Great Performers website.
Emerson Quartet website